Hello everyone,
I thought I might as well post a deck that I made on my own. It is an offensive Gem-Knight deck, not entirely based on fusions but still made for the fusions. This deck was made so that there was always support and help ready for this deck. The support I added into this deck really helps because I always find myself under pressure with this deck. So, here's the short list and image:
Monsters:
3 Gem-Knight Garnet
3 Gem-Knight Tourmaline
2 Gene-Warped Warwolf
3 Gem-Merchant
3 Gem-Armadillo
3 Gem-Knight Alexandrite
3 Gem-Knight Sapphire
1 Gem-Knight Crystal
Spells:
1 Book of Moon
1 Dark Hole
1 Monster Reborn
3 Dark Factory of Mass Production
3 Gem-Knight Fusion
2 Pot of Duality
2 Fusion Sage
2 Polymerization
Traps:
3 Dimensional Prison
3 Justi-Break
2 Mirror Force
1 Chain Burst
1 Chain Whirlwind
2 Torrential Tribute
Extra:
Any Gem-Knight Fusion Monsters
Image: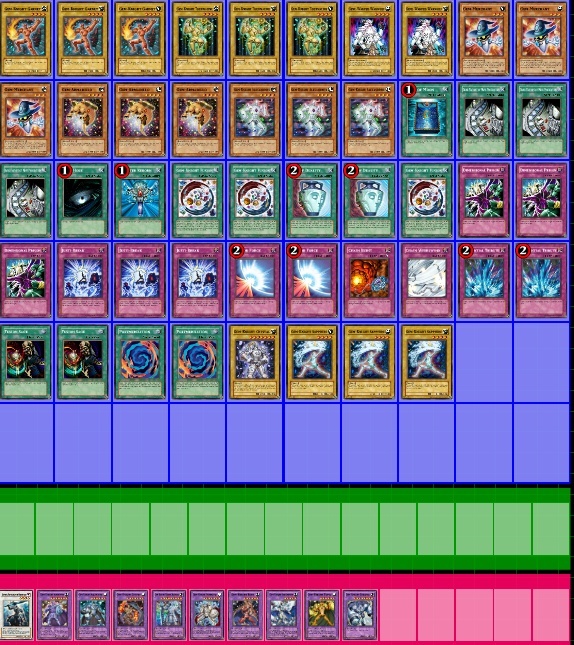 Garnet, Tourmaline, Warwolf, Sapphire, Crystal: All normal monsters. This is simple, yet and support and the trap cards are ideal with normal monsters.
Alexandrite: Good idea to summon needed Gem-Knights for fusions and for summoning Gem-Knight Crystal
Armadillo: Getting Gem-Knights ready for a fusion summon
Gem-Merchant: Protecting Gem-Knights on field and so they can be fusion summoned
Crystal: Powerful normal monster. Back up (Plan B) If I can't seem to Fusion Summon
Thanks for reading my first Deck Builder!
~Ruinnor